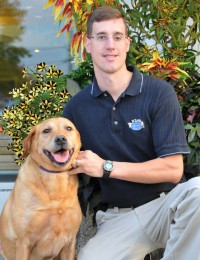 Shawn M Middleton, DVM, HBSc (Zoology)
Education: University of Western Ontario, Ontario Veterinary College
Dr. Middleton graduated with honours in Zoology from the University of Western Ontario in April, 1998 and then went on to graduate from the Ontario Veterinary College in April 2004 with a Doctor of Veterinary Medicine.
Memberships: Canadian Veterinary Medical Association (CVMA), Ontario Veterinary Medical Association (OVMA).
Pets: Dr. Middleton has 2 cats at home, Meeko and Pepper.
Hobbies and Interests: In his spare time Dr. Middleton enjoys curling, hiking, camping, cycling, gardening and golfing. Most of his time is spent with his two daughters, Sarah and Julia, and his wife Chrim.
Dr. Wayne Foster, DVM
Dr. Foster graduated from the Ontario Veterinary College, University of Guelph in 1978. He began practicing veterinary medicine in Sarnia, Ontario where he had a mixed practice including dogs, cats, farm animals and even horses.
In 1997 Dr. Foster relocated to the Hamilton area and shortly thereafter he began a mobile veterinary practice providing housecall services to not only the Hamilton area but also Ancaster, Burlington, Dundas, Stoney Creek, Glanbrook, Waterdown and Flamborough. He now provides companion animal services at Dundas Animal Hospital.
Hobbies & Interests: He lives with his wife Sherry, his dogs Cayenne, Stanford and Dahlia, many cats, 2 guinea pigs, 2 birds and 3 horses. In his spare time Dr. Foster enjoys hiking, reading, gardening and golfing.
Dr. Roxana Waldes-Wice, DVM
Bio coming soon...